I go past our beloved Molineux every morning on my way to work on the Codsall Clipper …. and my heart never fails to swell with pride.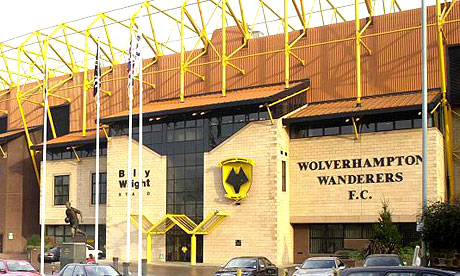 But I have seen something now, for several mornings in a row, that has worried me robustly …..
From the my seat on the bus, the van on the right looked just any other small white van ….. but when I got the zoom on my camera out (discretely, so as not to arouse suspicion) something more ominous was revealed ….
At first I was alarmed ….. in my wild imaginings I thought that perhaps the Molineux had somehow become infested and awash with birds of prey like eagles, buzzards, kestrels and hawks, and that the Wolves management had brought the pest people in to prevent any unfortunate swopping activity on any of our key players like Elokobi or Craddock during a match. Then I saw sense and relaxed …… and realised that the birds were there to eat any mice or voles that might stray onto the ground and scare the players ……. phew!