Just in case you've been wondering ….. the answer is "YES"… "I'm A Celebrity Get Me Out Of Here" is our televisual viewing of choice at the moment …….
Obviously, just as with every year, the "campers" have been the subject of much robust and heated debate sur le sofa, chez Chateau Castle Greyskull …..
For example …. we are convinced that Helen Flanagan has played a very clever and cunning game …..
but
we think we have seen right through it …..
…. we suspect that she conspired to start her "
jungle adventure
" by being a complete wuss, thereby ensuring that she would consistently be voted for to do all the tasks and thus maximise her TV coverage …. and then …..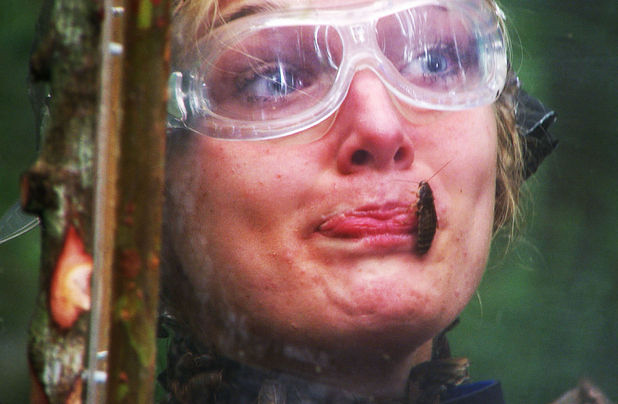 ……. just as the
act
was wearing thin …… she would suddenly get an appetite for cockroaches etc. and complete tasks with great aplomb and few squeals.
Call us cynical ….. but no one can deny that we are very much aficionados of the reality TV genre! Even Darrell, much prone to falling in deep amour with female contestants during such programmes (who can forget his dalliance with Stacey Solomon!?!) …… has been stalwartly impervious to the aforementioned Miss Flanagan's charms!
Our position of choice whilst watching I'm A Celebrity is dans le London lounging and reclining style ……..
….. with an ample supply of Haribo Horror Mix to do our own Bush Tucker Trials,
but
in a much more palatable and digestible type nature.
Some of the Trials have been quite awful and even Nigel, who has been known to stomach an awful lot of gruesome things, has had a look away on a number of occasions ……
….. let's just put it this way …. there
will not
be any in-depth ostrich anus or crocodile tentacle sampling and reviews on this blog …… EVER!
Brian was our favourite to be crowned King Of The Jungle
and
we were sad to see him go, so we have now changed our allegiance is Dr Who …. Colin Baker because he seems very kind and unassuming.
We shall see …..