Did we fool you? Bet you thought we'd been called in at the last minute to cover for Ant and Dec while they were recovering from a nasty attack of the squits!!!!!
While Darrell and Nigel have been away on their Sun £9.50 holiday they had only managed to catch quick snatches of I'm A Celebrity Get Me Out Of Here, our very favourite televisual viewing of choice at this time of year.
They had both become very embroiled in the entertainment scene at their site in the evenings, and had partaken vigorously in the karaoke, cabaret time, party dances and quiz nights. BUT, fortunately for them, I had set SKY to record I'm A Celeb for them. So when they returned, we all bedded down on the settee for an I'm A Celeb Fest! Darrell was a bit subdued at first, because this time last year Stacey Solomon was very much his Queen of the Jungle, but once he set his eyes on Jessica-Jane ….. he soon perked up!!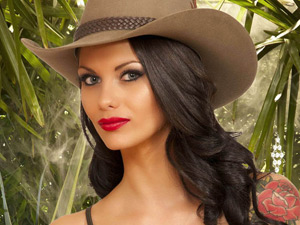 …… and to get us really in the mood, Auntie Jan had sent us some bulging jelly bugs to create our own bush tucker trial…..
…… which we decided to do in the garden to add an air of authenticity to the proceedings ….
…… but the bugs were quite delicious, and we nommed away quite happily, which sort of defeated the object of the trial!
As we looked round the garden we saw that there was quite a lot of scope for more trails ….
As we have a sort of ponging, fetid swamp like tank ….
….. and a few dark, dank pipes that are bound to harbour all manner of creepy crawlies……
………. So if you want to see Nigel embrace every challenge we set him and EAT everything that he meets on his path, even if he isn't meant to, pick up your phones and vote NIGEL 123 456 789
Or on the other hand you could vote for Sinitta … for lots of girlie squeals and not a lot of eating!!